Room Service | Ariel X
Dec 6, 2018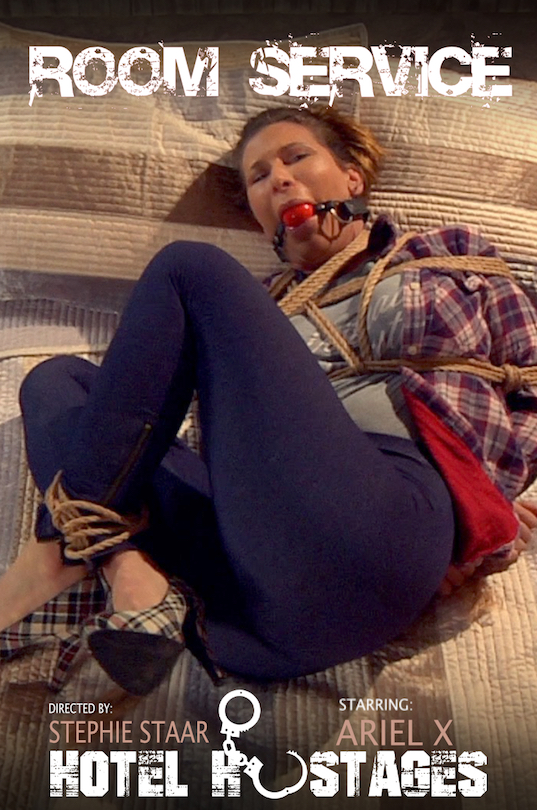 Ariel X is a beautiful fit goddess taking the stairs to her hotel room after a long day of work. She is the next unsuspecting capture. The lights are cut and she is grabbed.
Ariel struggles for freedom. She is rope bound, ball gagged, and made to cum.
Please enjoy this feature as she begs to be released, is buzzed and zapped.
Category 5 Neck & Ankle
Suspension | Ariel X | Matt Williams
Aug 13, 2012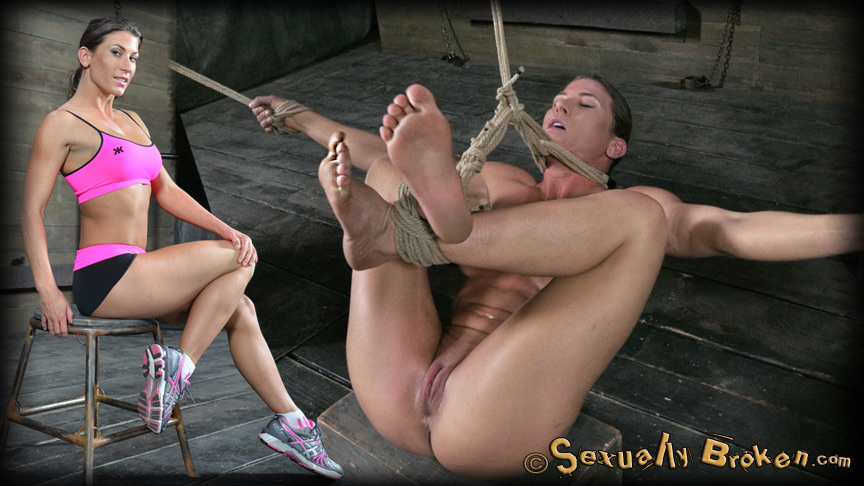 Our sexy adult fitness model suffers in a brutal Category 5 neck suspension. Her shaved wet pussy so vulnerable.

Bound between two posts, her arms extended out, Ariel X find herself in a very difficult and exposed position. Her ankles are bound to her neck and pulled up. For the moment she rests on a box, so we can torment her with canes and a brutal pussy flogging.

We attack the delicate soles of her feet with the harsh cane. All her strength is of no use to her as she cries out in pain with each brutal hit. All she can do is endure the punishment. We then flog her wet shaved pussy and again she suffers.

On the brink of breaking, we switch tactics. Jam 3 fingers up her pussy and within seconds Ariel is cumming and squirting! We drip her own squirt into her mouth and continue our sexual assault. The vibrator makes her cum, the fingers make her squirt back and forth. We tease and she begs.

Reduced to a screaming, cumming, squirt machine this powerful women is reduced to a slut begging to cum. We get bored of her begging and decide to let her suffer. We pull the rope that is bound between neck and ankles and Ariel X finds herself in a brutal Category 5 suspension. How long can her muscles hold out before she passes out...
Hogtie from Hell | Ariel X | Matt Williams
Jul 11, 2012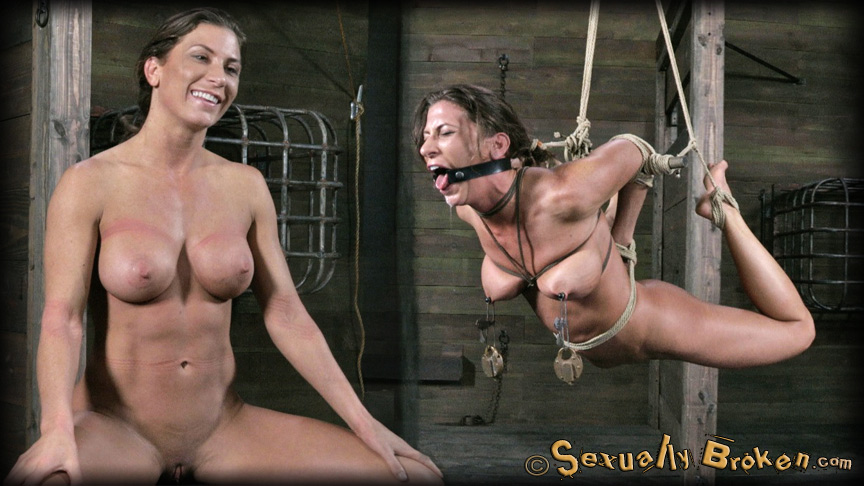 Ariel X over the years has transformed herself into the premiere fitness bondage model of our generation. Flexible, muscular and so sexy.

This is just a good, old fashion, brutal hogtie, with back to basics; caning and cumming. With her wrists bound to her waist, palms up, and her elbows bound with a wooden rod, Ariel finds that all those muscles and all that brute strength mean nothing when your expertly bound.

Her ankles are bound to the rod her elbows are tied to, and pulled up, keeping her legs spread apart. Her perfect ass and pussy are exposed from behind and we plan on making Ariel beg and plead to cum.

We rip orgasm after orgasm out of Ariel's helpless body. She tries to resist, but fails miserable as we make her cum over and over. When we think she can't physically handle any more orgasms we hike her up into the air and let her suffer in a brutal Category 5 Suspension. She struggles desperately to get free, but resistance is futile..
Muscle-Punishment | Ariel X | Matt Williams
Jun 11, 2012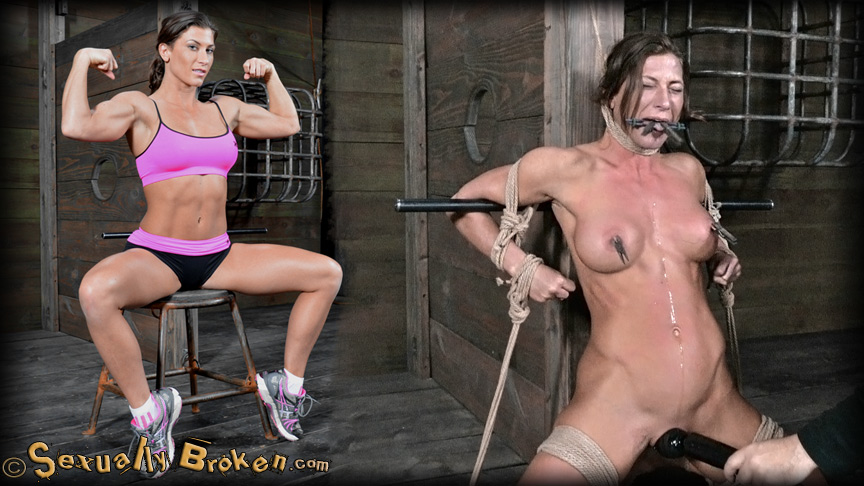 Welcome Fitness Model and Sexual Athlete, Ariel X to Sexually Broken. There is nothing sexier than strong women totally helpless.

Bound on her knees (where she belongs) Ariel finds that all her strength and muscles are no match for the ropes that make her completely helpless.

Suction cups are deployed to make Ariel's nipples 3x their original size. We beat her hard body with a flogger, paying special attention to her perfect breasts and pussy. A tongue trap keeps her from swallowing, and harsh Cpins further the tongue torment.

We make Ariel scream in pain and moan in ecstasy. We rip a zipper off her body at the exact second she is cumming, the result is fantastic to behold. If you want to see a strong, powerful, and helpless women beg to cum like a common whore do not miss this offering.